Baja Sunlight Sirius Rock Light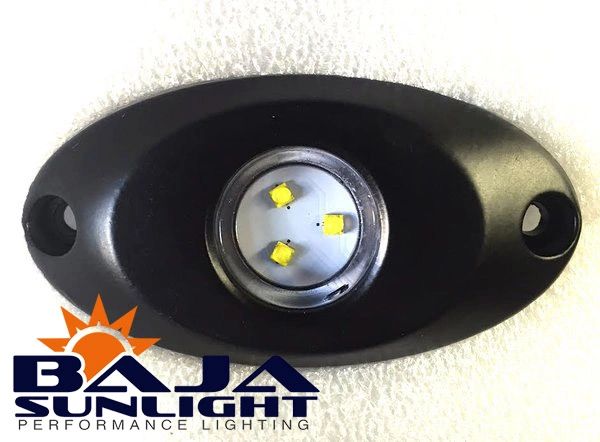 Baja Sunlight Sirius Rock Light
These Baja Sunlight Sirius Rock Lights are one of the best bang for your buck products. They are extremely bright, easy to install, and versatile!
Each light has a 13 foot lead
All weather sealed connections
915 lumens per light
Easy to install with flat and tube mounting plates
Virtually no wiring required except hooking them up to a battery or switch
Very versatile: Great for rock lights, hood lights, reverse lights, dome lights, kick panel lights, and more!
Suggested light setups:
Set of 4: Sets of 4 are great for accessory lighting like dome lights, back up lights, or kick panel lights. A set of 4 will also be plenty of lights to seamlessly light the undercarriage of smaller vehicles like Side by Sides, CJs or car trailers.
Set of 6: Sets of 6 are recommended for vehicles wheeling at night that want 100% seamless light on vehicles in the size range of a TJ, YJ, Cherokee, 2 Door JK, or smaller trucks.
Set of 8: Sets of 8 are perfect for lighting larger vehicles like 4 Door JKUs, Larger full sized trucks, trailers, or anything your heart desires!
Note: For those of you who did not know, the IP rating is a two part rating system which corresponds to how well the product holds up to dust and water. The first digit, in this case "6" means, the LED bar is Dust Tight. Meaning the internals and seals are 100% sealed for dust particles. 6 is the highest number given in this test. The second digit, in this case "8" means, the LED bar is rated for submersion beyond 1m. Meaning the internals and seals are 100% waterproof beyond 1m usually up to 3m and can withstand continuous submersion. 8 is the second highest rating for this test.
Photo shown is 1 single light in the wheel well of a Jeep JKU (4 door).