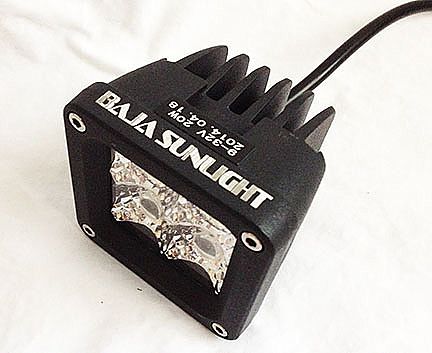 Baja Sunlight BajaPod
Highest Quality LED Light Bars sold DIRECT to SAVE you money!
We produce some of the highest quality LED Light bars on the market. We have put these bars to the test and they passed with flying colors. These LED bars are waterproof, shock proof, and dust proof. We have tortured the same bar for the past 3 months. We froze it for 2 days, submersed it in water for 2 days, held a blowtorch to it for 15 minutes, shot it with air rifles, thrown rocks at and on it, thrown it at rocks, drove over it, used it as a hammer and even forced it to watch Miley Cyrus videos. Each test was a pass.
This is our BajaPod, which is great for driving lights, bumpers, backup lights etc.
Dimensions: Lens Length - 2in x 2in - Body - 3in x 3in x 2 3/4in
Cast Alloy Cradle bracket included
All mounting hardware included (Mounting hardware does not mean vehicle specific or location specific brackets)
Wiring Harness Sold Separate
For those of you who did not know, the IP rating is a two part rating system which corresponds to how well the product holds up to dust and water. The first digit, in this case "6" means, the LED bar is Dust Tight. Meaning the internals and seals are 100% sealed for dust particles. 6 is the highest number given in this test. The second digit, in this case "8" means, the LED bar is rated for submersion beyond 1m. Meaning the internals and seals are 100% waterproof beyond 1m usually up to 3m and can withstand continuous submersion. 8 is the second highest rating for this test.